Disclosure: This page contains affiliate links from which I make a small profit if a product is purchased.
Gamma Iridians living on Earth require a great deal of energy, and the most powerful source of energy is erotic energy. Orgasms give these lusty extraterrestrials a powerful charge to keep them going throughout the day.
Gamma Iridians love sex play, and this means they have a big arsenal of toys to keep everyone happy. The following banner contains examples of some of the toys which have appeared in the Carnal Invasion series' lustiest scenes.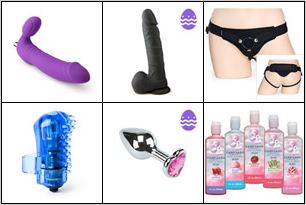 The purple dildo in the top left corner is similar to the device used by
Desire
in Carnal Invasion XI: Good Sports. (Scheduled for release in late April of 2019.)
The ladies of Climax Castle love their finger vibrators, such as the little gem in the bottom left corner.
Gamma Iridians, demons, elementals, humans, vampires, and werewolves alike all enjoy anal play, and the pink heart butt plug in the lower central panel resembles Samantha's favorite backdoor toy.
With this much erotic action, it would be foolish not to have an ample supply of lube. The generous supply of flavored lube in the bottom right corner might make it through one session with the lusty lot at Climax Castle. It should be more than enough for a few sexy times for your normal human.
The sample supplies featured on this page are sold by Eden Fantasys. Webmasters and bloggers interested in becoming an affiliate for Eden Fantasys,
please click here.